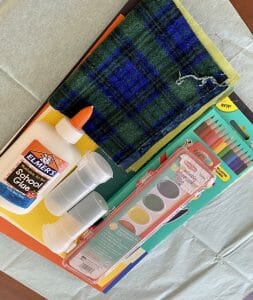 My name is Chelsie Bethke, and I am one of the art therapists at DBT-PTSD Specialists. DBT-PTSD Specialists have had art therapy as an optional form of therapy since 2016. At both sites (Elk River and Plymouth), you may find art therapy available for anyone admitted to the clinic who is interested in participating in art therapy either for individual sessions or for group sessions.
The American Art Therapy Association (AATA) defines art therapy as a mental health profession that enriches the lives of individuals, families, and communities through active artmaking, creative process, applied psychological theory, and human experience within a psychotherapeutic relationship.
By practicing art therapy, individuals may use various materials to create art during sessions. When individuals come into the office for in-person sessions, materials of all kinds are provided by our staff. However, obtaining materials for clients who are being seen over telehealth appointments and cannot come into the office has proven to be tricky. As of April 2023, DBT-PTSD Specialists offers the option of purchasing an at-home art therapy supplies kit for clients who want to have materials at home for their art therapy sessions – or for just doing art!
For those interested in purchasing an at-home art therapy supplies kit, please get in touch with either the Plymouth office (763-412-0722) or the Elk River office (763-595-1311). Prices may vary depending on whether you want to pick up the kit in person or get it shipped. The supplies in the kits can be used for individual sessions, group sessions, or just for doing art on your own time.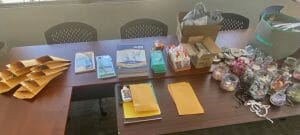 Items in an art therapy kit may include:
Sketchbook
Colored paper
Liquid glue or glue stick
Paint & Brushes
Watercolor set
Colored pencils or crayons
Buttons
Ribbon
Fabric
Paper strips
Yarn or string